So I have just started eating seafood again, and have not cooked with it enough to produce new recipes.  That is why I asked Joshua from Slim Palate to do a guest post.  You may not know who he is, and shame on you because you should.  He is an amazing chef, photographer, inspiration, and oh yeah, he is 17 YEARS OLD and lost 100 pounds on his own.  What was I doing at 17, certainly not running a website helping thousands of people discover their health and take control of their lives.  Joshua is such a humble and sweet soul.  He may look up to other Paleo Bloggers, but the truth is, we all look up to him.  I can not wait to see what the future holds for this bright young man.  Make sure you check out his website.  Without further ado, here is his Crispy Skin Salmon.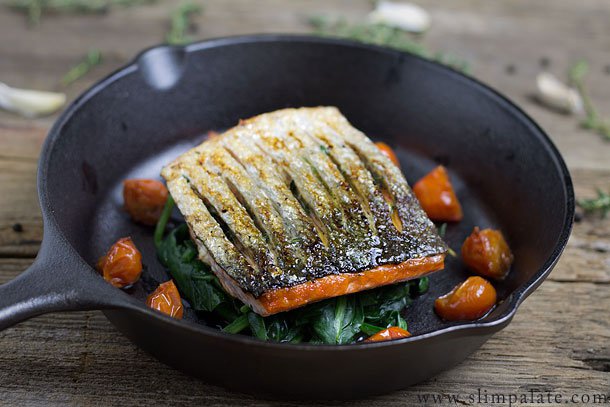 So George here asked me totally out of the blue to guest post for him. I lost my mind immediately and of course said yes. I'm so thrilled and happy to have the chance to guest post on one of my favorite Paleo blogs in the whole world. Moving on to the post, don't be intimidated by the sound of this. Fish skin seems intimidating and it might gross you out at first. Believe me when I say every person I have made this for has absolutely loved it and constantly raved about this dish when I make it. Plus it's actually easier to make it like this, that way you don't have to skin it yourself. Just be sure to get high quality wild caught salmon from a sustainable source.
There are actually a plethora of nutritional benefits from eating the skin as well. A lot of the nutrients lie in the skin of a salmon, or any fish for that matter. But I think we all know that it doesn't just lie in the nutrients in this dish. When ever you sear the skin it gets incredibly crispy and helps keep the meat of the salmon from getting dry. When I say crispy I mean crunchy crispy, the most gorgeous crust you can get on fish. This is why I find it kind of odd to add breadcrumbs to fish and frying it because at that point your just being a little redundant. You can already have that beautiful crispiness by leaving that skin on. I once read from Mark Sisson that Salmon skin is "the bacon of the sea" and I tend to agree. When I read that it completely spoke to me and made me smile. So thank you Mark Sisson for being awesome yet again.
Once you try it this way you will probably end up eating your salmon like this for the rest of your life. It really is that good. Whenever you bite into the tender flesh of the salmon and get that surprising crunch it's so irresistible! Not to mention the skin of the fish does not taste fishy at all, in fact it doesn't really taste like much at all, it's really just there as a texture enhancer. I would also like ot mention my mom is a very picky eater and even she loves the skin like this. That's really saying something, but don't tell her I said she was a picky eater. I might get a Le Creuset dropped on my head, and those are pretty well weighted at the bottom so I'd imagine a pretty serious concussion would follow that.
Now in my opinion the best method for getting perfect crispy skin every time is by starting with scoring the skin about 1/2 inch into the meat. This keeps the fish from curling at all when you put it in the pan that way you get a even sear all the way across the skin. It's also very important to lightly press down right after you put in the to make sure it's evenly getting heated, and then just leave it alone. It's good to let it sit there and sear for a little bit, I like to let it sit there until the meat is starting to turn light pink about halfway through.
The only difficult thing that faces you at this point is the beautiful skin that you want to stay on the fish sticking to the pan. It should come off the pan fairly easy but if it's still sticking then it's probably not ready to flip yet. Just be sure not to be too violent when getting your spatula under the fish either. Sometimes I get a little hasty and shove the spatula under there and end up pulling back all of that delicate crispy skin back, which makes me very sad. Although my sadness didn't last too long because I then realized that when I flipped it over I peeled off that crispy skin and ate it hot out of the pan and that made me happy again. Sure I may have gotten 2nd degree burns on the inside of my mouth but it was well worth it.
Crispy Skin Salmon
Instructions
Take salmon filet and cut into indivualized portions which will change depending on how much each person eats.

Flip the salmon over skin side up, firmly hold the sides of the filet and curl it upward by pressing the sides slightly in and carefully score the skin across by slicing your

knife

through the skin about 1/2 an inch deep. (be sure to do this just across the top of the skin but do not slice all the way through the fish like you are going to cut it in half and try and keep the scores about 1/4 an inch apart, the closer the scores the crispier the skin)

Once each filet is scored take the leaves off your thyme and mince with your garlic.

Sprinkle in a little bit of salt and fresh cracked black pepper and thyme garlic mixture in between each slit of each score.

In a

medium sized pan

heat avocado oil over medium high heat and wait for the pan to get hot. While your waiting for the pan to get hot lightly brush the top of each salmon skin with avocado oil to prevent any sticking.(be careful not to rub out any of the herb mixture in the slits)

Once the pan is hot place the salmon in the pan facing away from you so you dont splash hot oil on yourself and very lightly press down for a second, just enough to make sure it's evenly distributed across the pan for an even sear. (take care not to overcrowd the pan as you may need to do the salmon in batches)

Let the salmon cook for 2-4 minutes on the skin or until the salmon has turned a milky pink about 2/3 the way up the salmon.

Carefully slide

spatula

or fish fry under salmon be careful not to rip skin and flip and cook on other side for 2-3 more minutes or until salmon is cooked all the way through.

Serve with your choice of veggies. I like mine served with charred grape tomatoes and sauteed spinach.
****Disclosure: If you purchase any of the products linked in this post or products through the links on the right side of my page, I receive a small percentage from the respected affiliate programs****