We are nothing but overly impressed with this amazing ham we got from US Wellness Meats.  Knowing it was going to be amazing (because honestly they never deliver anything less than amazing) we had to come up with a recipe that was hopefully equally as awesome.  We must say, when we were throwing this one together, we knew that apples roasted with a spice glaze would taste amazing, but we were a little nervous about the peaches.
Turns out, we had nothing to fear because they were what we couldn't get enough of.  The best part was how fresh this fruit was from the farmers market just picked the day before.  We could really taste the freshness of it all. Not really, but we are going to say we could anyways.  Pretty much just because it sounds cool.  We would highly recommend you keep this recipe around and in your back pocket for any upcoming holiday, you will impress many.  Actually, no back pocket needed, you can just Pin it since Pinterest is the new addiction. So make sure you follow us there too.
Now we just want to take a second to first say THANK YOU. Thank you to each and every one of our 11 readers (I know, wishful thinking, haha). Just kidding for all of the awesome support you always give us. We really do our best day in and day out to share as much as we can with you to try and make your Paleo journey, or just food choices in general, more enjoyable.
We just ask that you help us in return, pretty please.  We run this site for free and always will, but what will help us is if you share our recipes or posts on Facebook, Pinterest, Twitter, etc.  The 5 seconds it takes for you to share this for us, allows us to grow and bring you amazing recipes, blog posts, and more.
Helping people with food, fitness, and inspiration is what we are after and we're working on getting there.  So thank you for everything!  Everything you do makes our hearts melt: the comments, the emails etc.  Can't wait to continue this journey with all of you.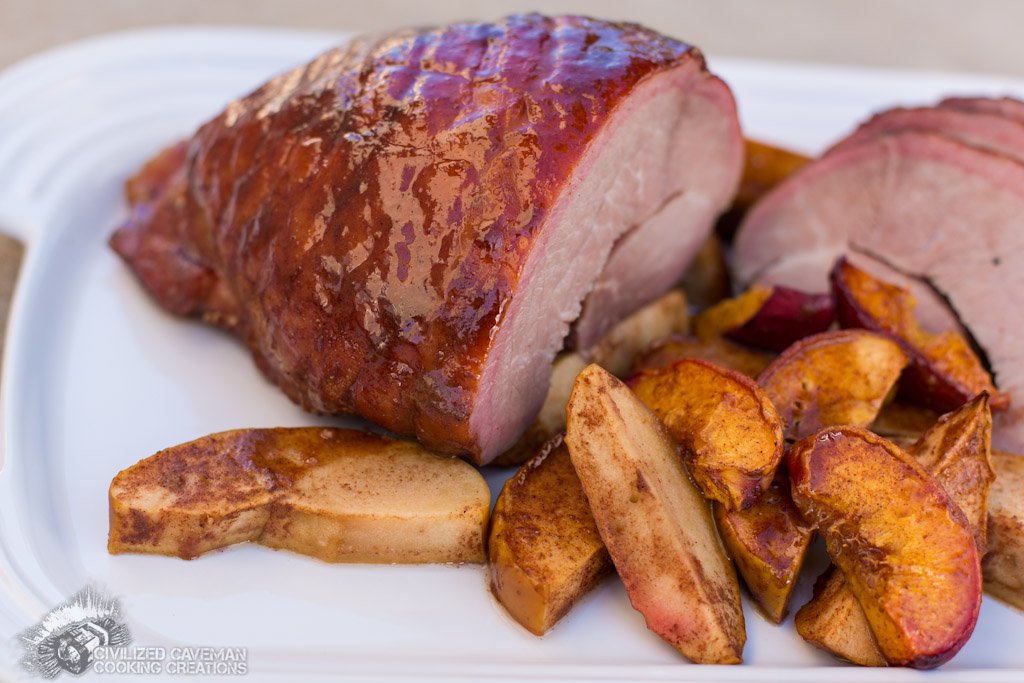 Honey Baked Ham with Spiced Apples and Peaches
Ingredients  
2

large apples of your choice

2

yellow peaches

1

teaspoon

cinnamon

1

teaspoon

mustard powder

1/4

teaspoon

ground cloves

1/8

teaspoon

nutmeg

1/8

teaspoon

all spice

1/4

cup

water
Instructions 
Process:
Preheat oven to 350 Degrees F

Rinse the ham under cold water and pat dry with a paper towel and place in the middle of your roasting pan.

Mix the honey, cinnamon, cloves, nutmeg and all spice in a bowl

In a separate small bowl, mix in mustard powder and water until well combined.

Add mustard water to your honey and spices and mix well.

Now core your apples and take the pit out of your peaches and chop in large slices. We had 8 slices per apple and 8 slices per peach.

Spread your fruit all around your ham in the roasting pan, and then baste the fruit with your glaze and then baste your ham once more

Place your ham in the oven and bake until it reaches an internal temperature of 150 Degrees Fahrenheit. Every 20-30 minutes add more glaze to your ham until completion.

Once your ham reaches 150, remove from the oven and tent with aluminum foil for 15 minutes.

Slice and serve with your spiced fruit.
Want to learn which ingredients are the best to cook with?
Check out our friends over at Wellness Force Radio and learn about how good nutrition impacts your health: